ANLEITUNG SEHNSUCHT 2023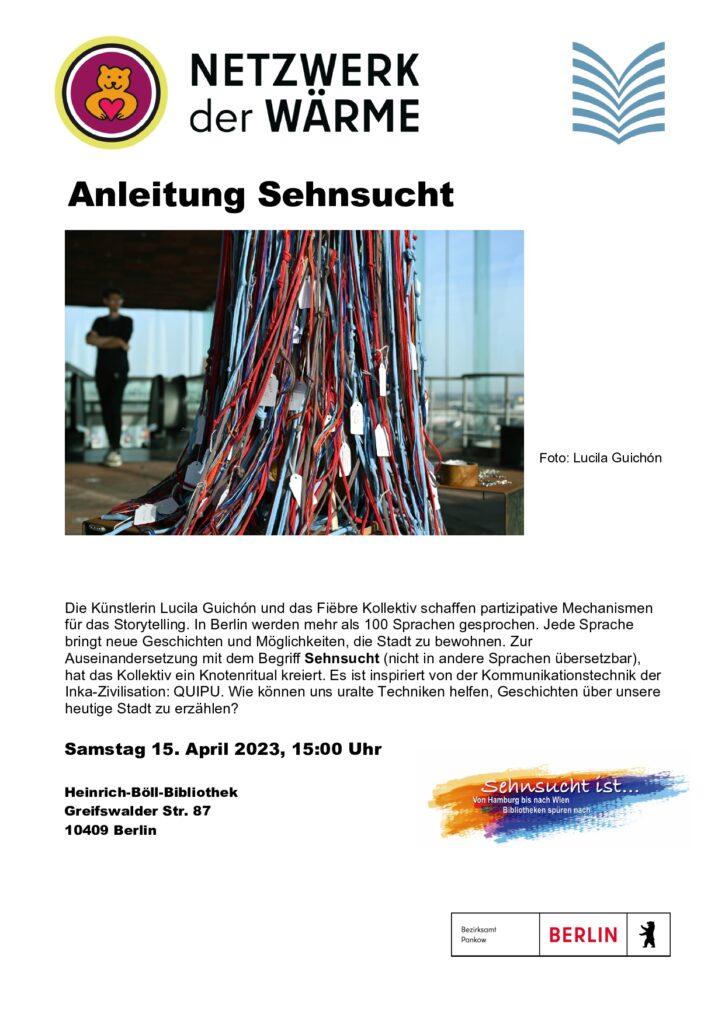 ALTAAR VAN ANTWERPEN 2022
As every year, visitors can leave their mark on the altar through participatory action. In 2022 we worked with textiles. We were inspired by the "Quipu", a pre-Hispanic communication technique. The quipus was the basic means of communication in the vast Inca civilisation, which had many languages and dialects. The quipu (a type of button writing) was a form of communication and memory, as well as a system and network of knowledge and identity. Is it possible to use ancestral tools to tell stories about our city today? Can a visual language help us overcome the barriers of written language?
To close, Isabella Arboleda brought the Altar to life with her dance performance.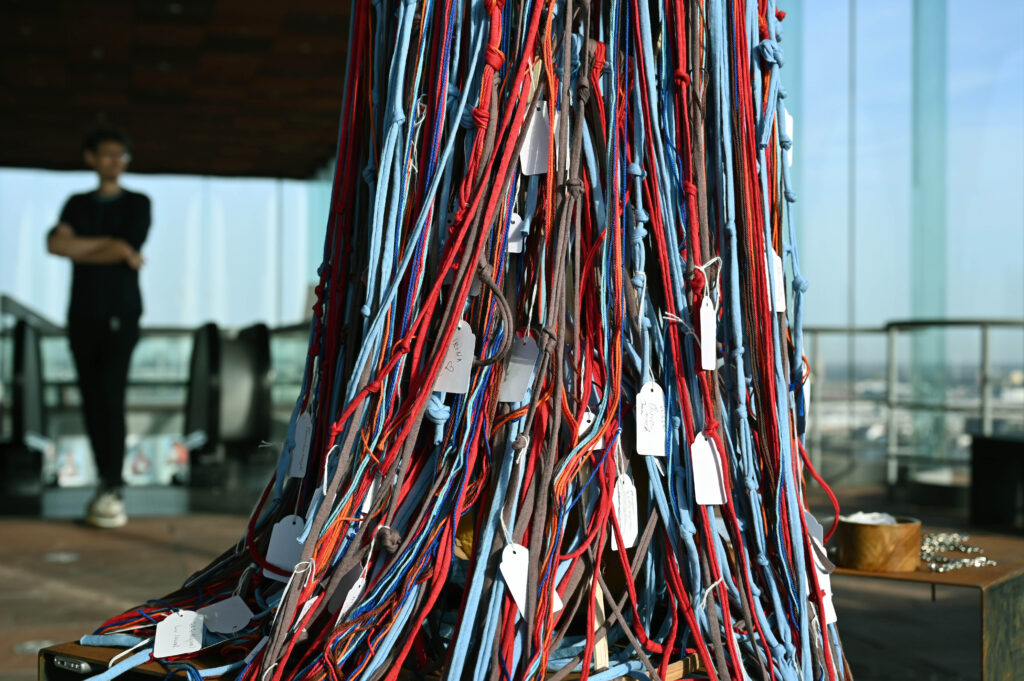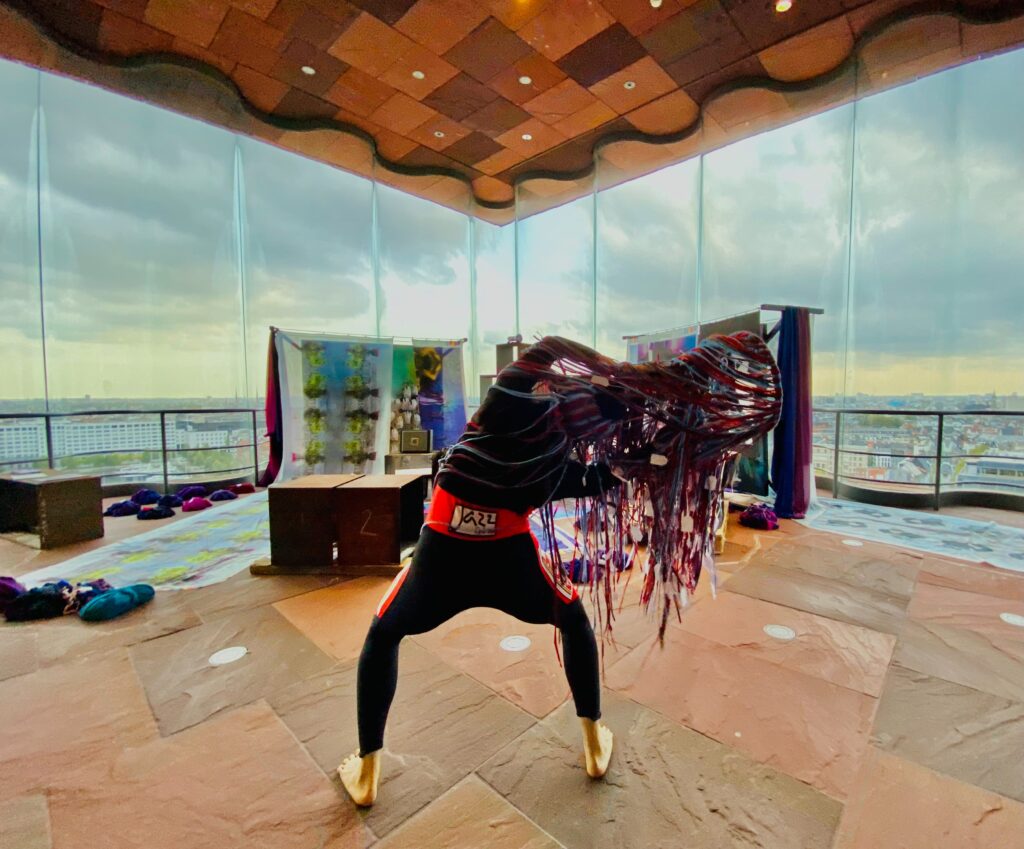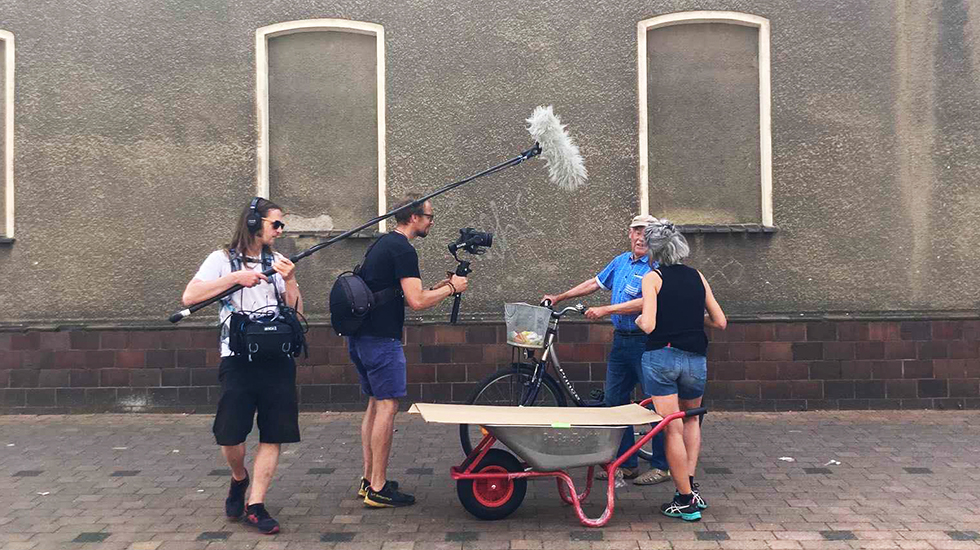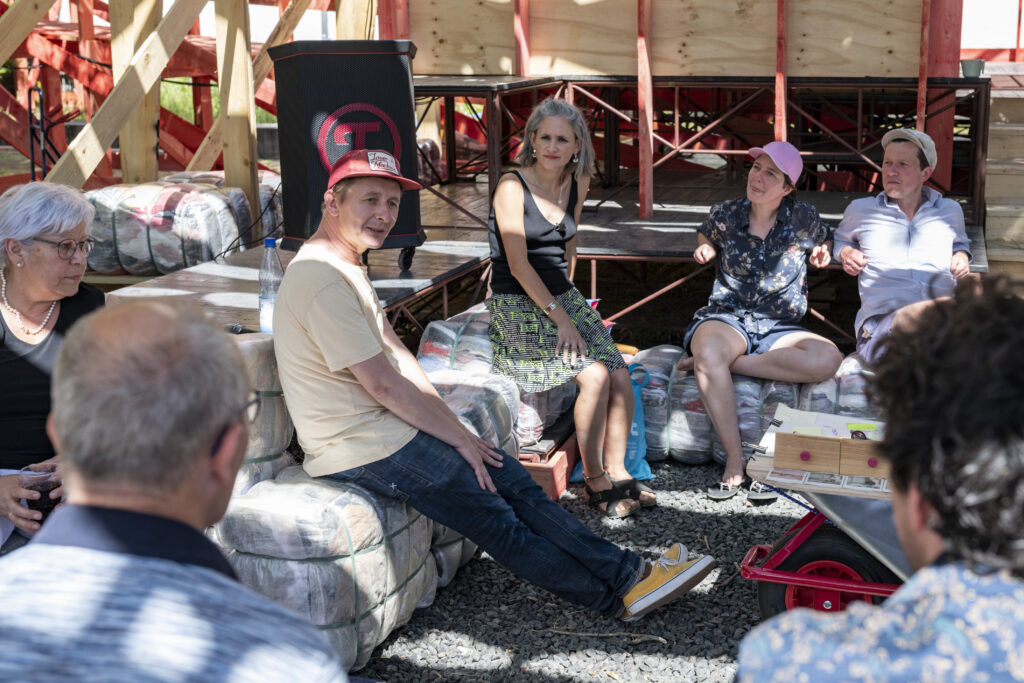 Der Markt in Bitterfeld ist ein uralter Kreuzungspunkt auf den verschlungenen Wegen, die die Stadt in ihrer Geschichte genommen hat. Bis heute gibt es hier den Wochenmarkt. Auf die Frage nach der ganz persönlichen Karte durch die Stadt gibt es genauso viele Antworten wie es Menschen gibt, die in Bitterfeld leben. Denn auch wenn alle in den gleichen Straßen unterwegs sind, sieht der Autofahrer Bitterfeld anders als die Rollstuhlfahrerin, der Schüler sieht anderes als die Verkäuferin. Lucila Guichon beschäftigt sich seit langem mit dem Entwickeln von Kartografien, die Orte aus unterschiedlichen Perspektiven sichtbar machen. Für das Festival OSTEN wird sie sich einen Tag lang am Bitterfelder Markt aufhalten und mit Leuten sprechen, die hier wohnen oder zu Besuch sind, mit jenen, die noch das Bitterfeld zwischen CKB und Tagebau kennen und jenen, die die Goitzsche nur als See kennengelernt haben. Gemeinsam mit ihren Gesprächspartnern wird sie eine vielschichtige Karte entwickeln, die vom Leben in Bitterfeld berichtet. Im Atelier für gegenseitiges Interesse werden alle, die mitmachen, anhand der Karten ihre Sicht auf die Stadt erklären.
#SUBALTERAS collaborative residency to address the theme of subalternity in dialogue with the Diaspora
Click HERE to see more of #subalternas. With and by: #LASTESIS Maryam K. Hedayat, Jennifer Baez Matos and Lucila Guichon. KVS Mestizx Arts Platform
#PROXIMAMENTE Latin America performing arts festival in KVS Brussels
Click HERE to see more of #Proximamente. It is a cooperative platform with a brand-new festival programme in the Royal Flemish Theatre in Brussels.
#COLECCIÓN is an invitation to reflect on historiography and the heritage of tomorrow
Click HERE to see more of #colección. With and by: Lucila Guichón, Joana Rossi, Javier Perugachi, Juan Carlos Bonifaz and Gea Zazil. MAS | Museum aan de Stroom #HetAltaarvanAntwerpen Mestizx Arts Platform
---
OCT 2020 ALTAR OF ANTWERP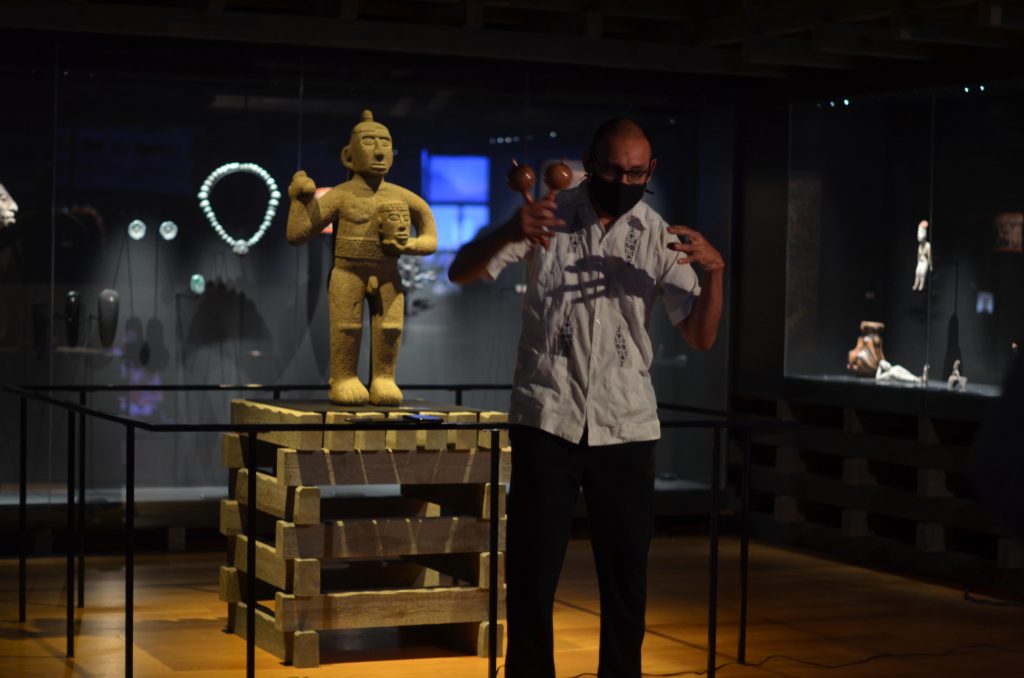 How do we deal with loss in Antwerp? The Altar of Antwerp is an interactive installation that reflects on it every year. Setting up the Altar in a museum is a challenge, because how do you preserve something that cannot be preserved?
Since 2017, the Altar of Antwerp has been part of the collection of the MAS. It has also been included as an 'ambassador' in the register of good practices for intangible heritage in Flanders. (read more here)
MARCH-SEP 2020 ALTAR BERLIN (read more)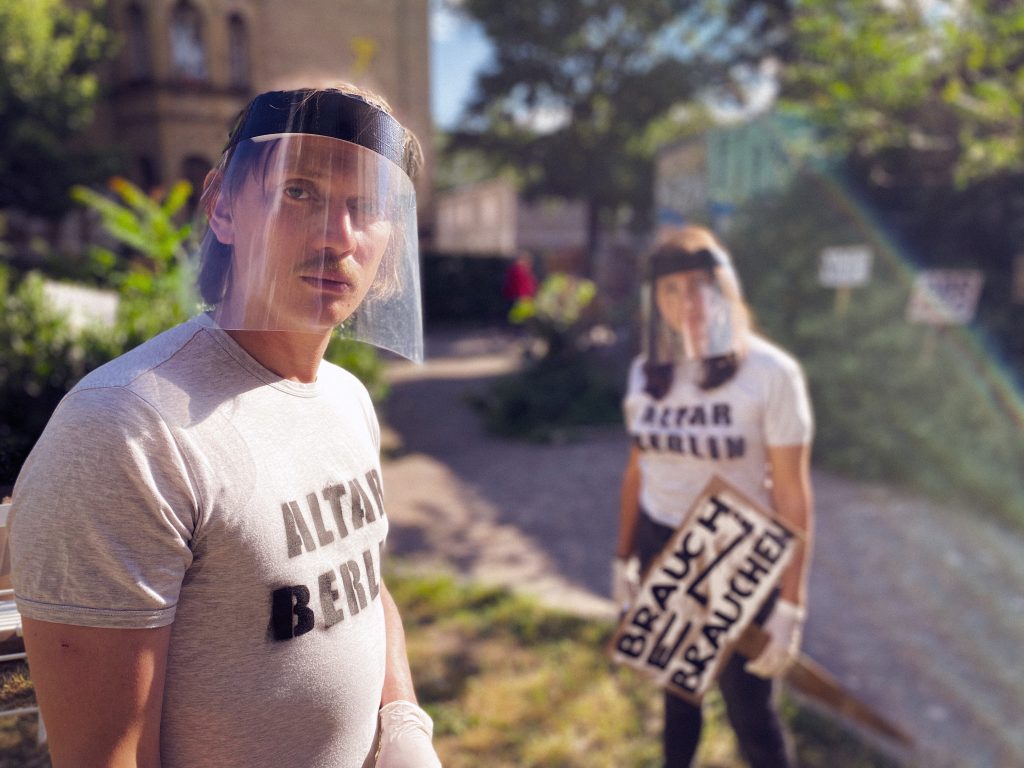 ---
November 2019- Brussel
Photography & Video for #PROXIMAMENTE Festival in KVS
Próximamente means 'coming soon', but at the same time refers to proximity. In this unique programme we transfer the reality and energy of the Latin American performing arts to the heart of Europe. A window on the region presented on the stages of the Brussels City Theatre KVS, opened by some of the most relevant festivals, theatres and organisations from Argentina, Chile, Uruguay and Brazil. More info HERE.
November 2019- Brussel
Communication & Integration of the Independent Arts Scene Berlin in the #WIPCOOP work in progress
A dozen artists present a work in progress. The auditorium is mainly filled by the performers' network, partner organisations and the wider art sector. After each W.I.P. performance the performers join selected art sector representatives at their table for discussion. Inquisitive city-dwellers, drawn in by the appeal of the unknown, come to get the latest news on the street. In one jam-packed day they can sample the new voices of the city. This cultural tasting is pure indulgence. It's a joyful and thrilling experience to see something new being created at close hand. Because the artists are only showing the foundations of a future performance the experts' comments are intended as encouragement rather than criticism. And although the artists don't have to follow the advice it can turn out to be gold-dust to them. Taking the contructive feedback on board the performers withdraw to the studio to allow their ideas to mature. Often with a business card in hand. And when an expert decides to help develop a performance the Mestizo Arts Platform offers its assistance. More info click here
October 2019 – Antwerpen
Installation & Workshop ALTAR ANTWERPEN in HET MAS Museum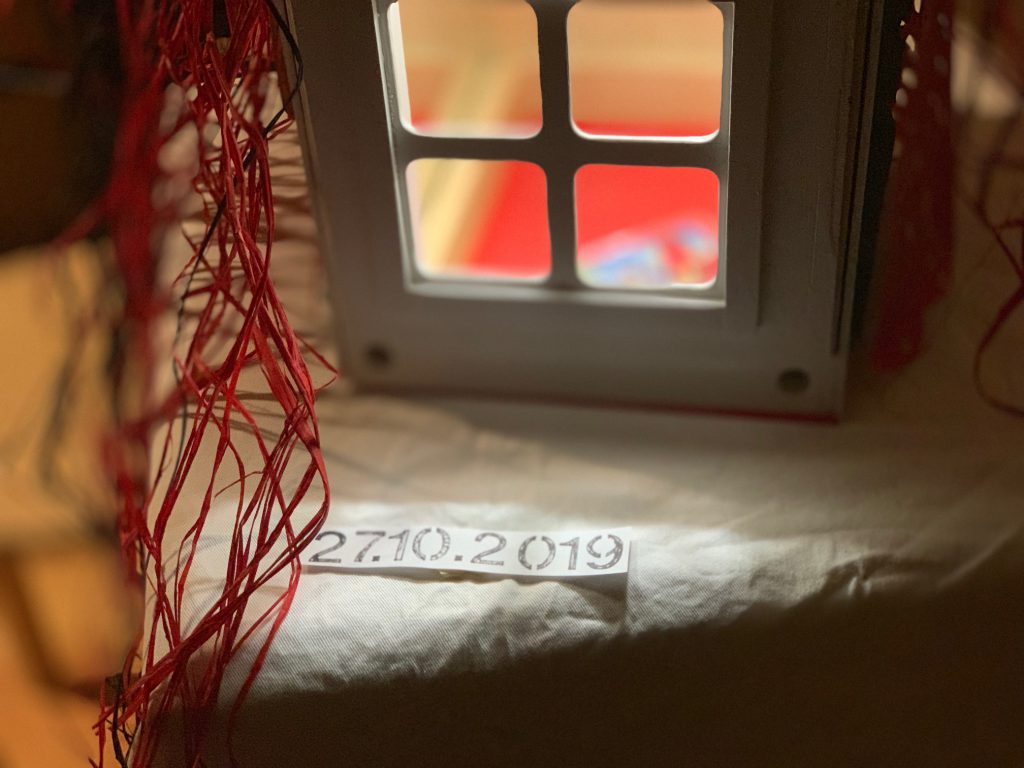 The Altar of Antwerp is an interactive installation in HET MAS Museum. It is a point of reflection in the city about how we deal with loss. It is inspired by the relationship with the death of the original peoples in the pre-columbian era of America. What makes the Altar special is that it not only offers the opportunity to commemorate lost memories, feelings and special people. It is also a way to evoke these people, moments or feelings and to realise that they are still connected to us. Every year Gerardo Salinas (MAP & KVS), the curator of the Altar of Antwerp, asks one or more artists to add a new layer to this eclectic installation. Every year at the same time, visitors and Antwerp residents in general have the opportunity to participate in workshops in the Altar. ALTAR ANTWERPEN 2019 Cuauthemoc Garmendia + Lucila Guichón + Israel Alonso Lucila Guichon creates an interactive concept: at 27.10 the visitors will get the chance to take pictures in the photo booth next to the Altar. On the back of the photos they will be able to write a feeling, a person, a moment (or an object) that they want to recall. These photos will be placed in a suitcase that Lucila has made. The suitcase with the photos will forever be part of the Antwerp Altar. The embassy of Mexico will again build a traditional Altar to connect this Antwerp tradition with the source.
——————————————–
June 2019- Coordination Open Sessions and production in Berlin for "A Land Full of Heroes" a documentary play made by La Conquesta del Pol Sud.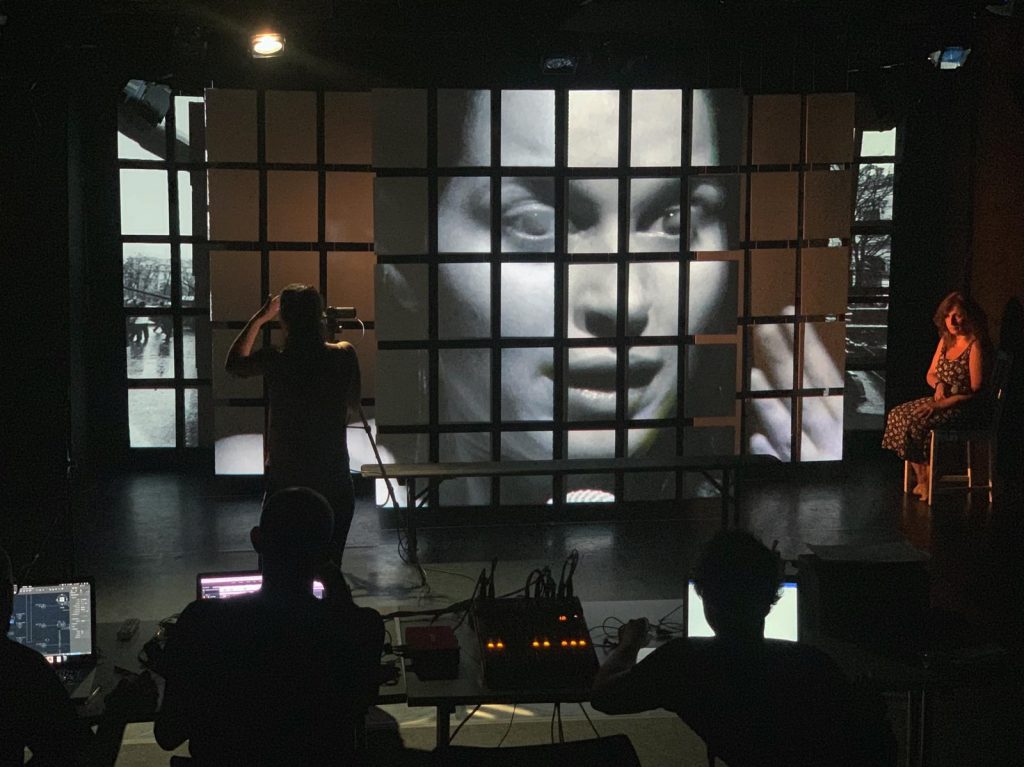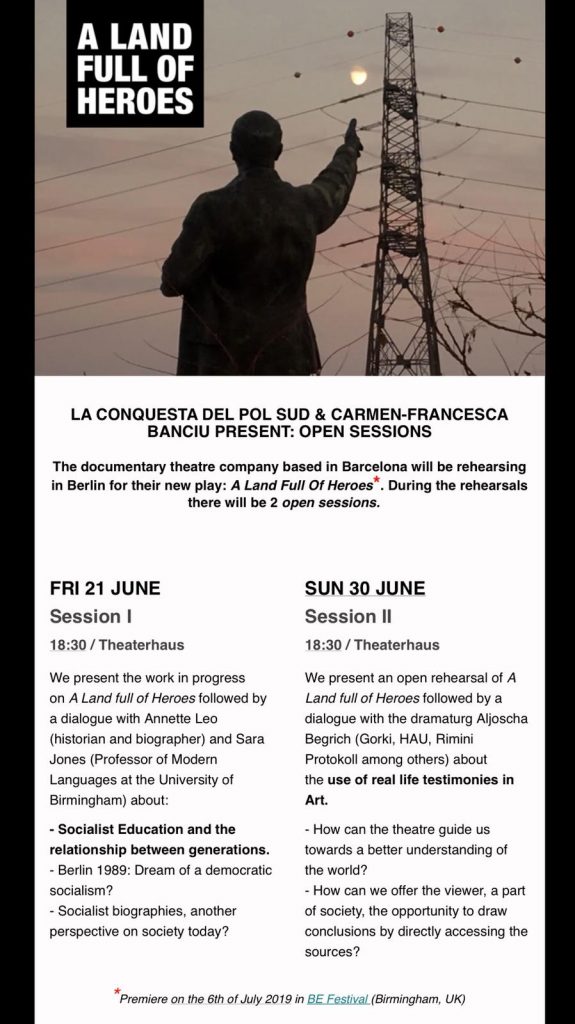 Dramaturgy, playwriting and creation: Carmen-Francesca Banciu, Meda G. Banciu, Carles Fernández Giua, Eugenio Szwarcer
Cast: Carmen Francesca Banciu, Meda G. Banciu
Director: Carles Fernández Giua
Set & Video Design: Eugenio Szwarcer Costume
Design: La Conquesta del Pol Sud
Sound Design: Santiago Blaum
Lighting Design: Luis Martí
Choreographer: Tamara Saphir
Assistant director /Dramaturgy: David Magnus
Photography: La Conquesta del Pol Sud
Production in Berlin & Coordination Open Sessions: Lucila Guichon